Accessing the Enterprise Pactflow container registry
Docker images for our self-hosted Pactflow Enterprise product are hosted at Quay. We will provide Quay.io access for you when signing up to the product. To do so we will need one of two things:
An email address to invite you
The username of an existing Quay.io account.
In most cases, we expect to create a new user (1). Once we have granted access to your given email address, you should receive an email from Quay, where you will need to create a new account and setup credentials to download the image.
Getting started
Once we have created you a new user, you will receive an email from Quay.io inviting you to join a new team and a license file from us. You can setup the new account as follows:
Make sure you have received a Pactflow on-premises license file.
Follow the link in your email and create a new Quay account
Head to the Repositories page
Click on your user (e.g. https://quay.io/user/mfellowstestquaycustomer)
Go to your Robot Accounts tab
Click "Create Robot Account"
Complete the details
Choose "View credentials"
Copy the relevant credentials
Watch the following video for a short demonstration of creating an account and setting up a CI token.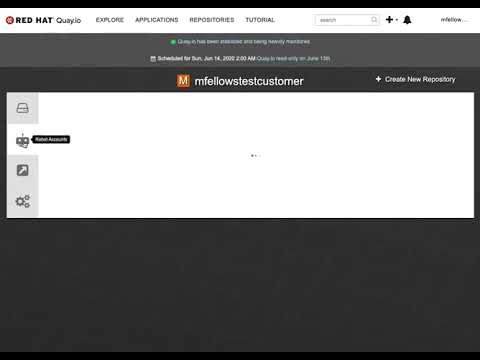 Downloading the image
Once you have created your CI token, you can login to your docker management system with the username and password created above and then pull the image:
docker pull quay.io/pactflow/enterprise